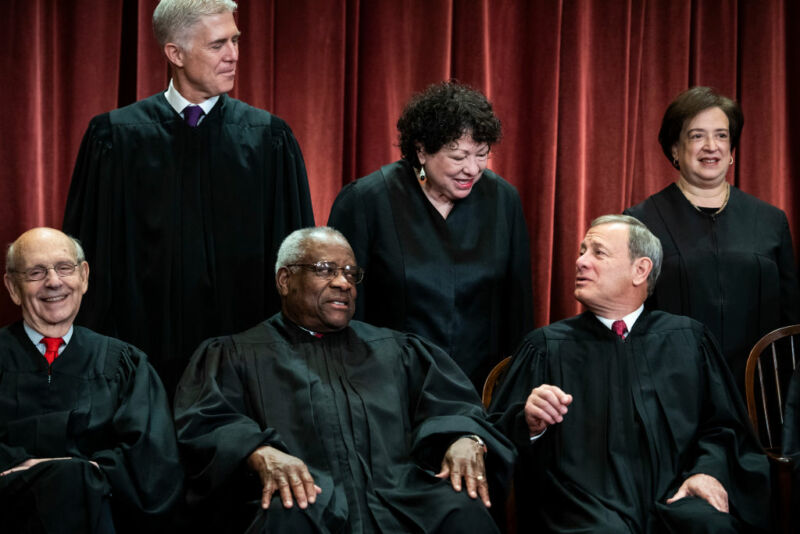 Enlarge / US Supreme Court justices sit for their official group photo on Friday, Nov. 30, 2018 in Washington, DC. Seated from left, Associate Justice Stephen Breyer, Associate Justice Clarence Thomas, and Chief Justice of the United States John Roberts. Standing from left, Associate Justice Neil Gorsuch, Associate Justice Sonia Sotomayor, and Associate Justice Elena Kagan. (credit: Getty Images | The Washington Post)
Supreme Court Justice Clarence Thomas wants a do-over on his 2005 decision in a case that had a major impact on the power of federal agencies and regulation of the broadband industry.
In National Cable & Telecommunications Association v. Brand X Internet Services, better known as Brand X, Thomas wrote the 6-3 majority opinion that upheld a Federal Communications Commission decision to classify cable broadband as an information service. But in a dissent on a new case, released Monday, Thomas wrote that he got Brand X wrong. Thomas regrets that Brand X gave federal agencies extensive power to interpret US law, a power generally reserved for judges.
"Regrettably, Brand X has taken this Court to the precipice of administrative absolutism," Thomas wrote. "Under its rule of deference, agencies are free to invent new (purported) interpretations of statutes and then require courts to reject their own prior interpretations."
Source: https://arstechnica.com/?p=1656250
Droolin' Dog sniffed out this story and shared it with you.
The Article Was Written/Published By: Jon Brodkin