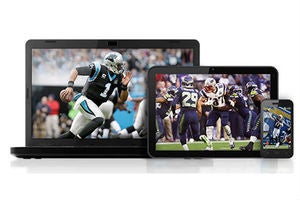 The NFL wants to conquer the screens that dominate 21st-century culture: computers, tablets, and mobile phones. After years of fumbling its digital presentation, the league is finally embracing live streaming as part of a "tri-cast" distribution model of broadcast, cable, and internet.
Thanks to these developments, there are now more ways than ever to get your gridiron on when the season gets underway on Thursday, September 5, with a matchup between the oldest rivals in the NFL, the Green Bay Packers vs. the Chicago Bears. Here's our guide to all your options.
Over the air
Unlike the NBA, NHL, or MLB, the NFL plays a simple 16-game schedule with each team playing one game a week. That lends itself to fairly predictable TV programming. The league splits the Sunday afternoon telecasts by conference: AFC games air on CBS at 1:00 p.m. and 4:05 p.m. ET, and Fox runs the NFC games at 1:00 p.m. and 4:25 p.m. ET. NBC retains the popular Sunday Night Football broadcast, which kicks off at 8:20 p.m. ET. All you'll need is an over-the-air digital TV antenna and reasonable proximity to a broadcast tower. You'll find our top antenna picks here.
Source: https://www.techhive.com/article/2975842/how-to-watch-football-without-cable.html#tk.rss_all
Proactive Computing found this story and shared it with you.
The Article Was Written/Published By: Michael Ansaldo