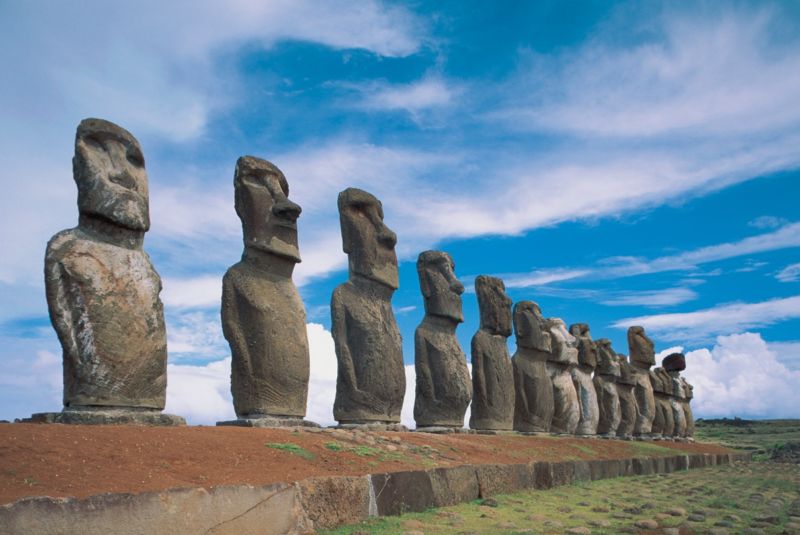 Enlarge / Moai statues in a row, Ahu Tongariki, Easter Island, Chile. (credit: De Agostini Picture Library/Getty Images)
Chile's Easter Island (Rapa Nui) is famous for its giant monumental statues, called moai, built by early inhabitants some 800 years ago. The islanders likely chose the statues' locations based on the availability of fresh water sources, according to a recent paper in PLOS One.
Scholars have puzzled over the moai on Easter Island for decades, pondering their cultural significance, as well as how a Stone Age culture managed to carve and transport statues weighing as much as 92 tons. They were typically mounted on platforms called ahu. According to co-author Carl Lipo, an anthropologist at Binghamton University, you can have ahu (platforms) without moai (statues) and moai without ahu, usually along the roads leading to ahu; they were likely being transported and never got to their destination.
Back in 2012, Lipo and his colleague, Terry Hunt of the University of Arizona, showed that you could transport a ten-foot, five-ton moai a few hundred yards with just 18 people and three strong ropes by employing a rocking motion. Last year Lipo proposed an intriguing hypothesis for how the islanders placed red hats on top of some moai; those can weigh up to 13 tons. He suggested the inhabitants used ropes to roll the hats up a ramp.
Source: https://arstechnica.com/science/2019/03/scientists-think-theyve-solved-one-mystery-of-easter-islands-statues/
Droolin' Dog sniffed out this story and shared it with you.
The Article Was Written/Published By: Jennifer Ouellette