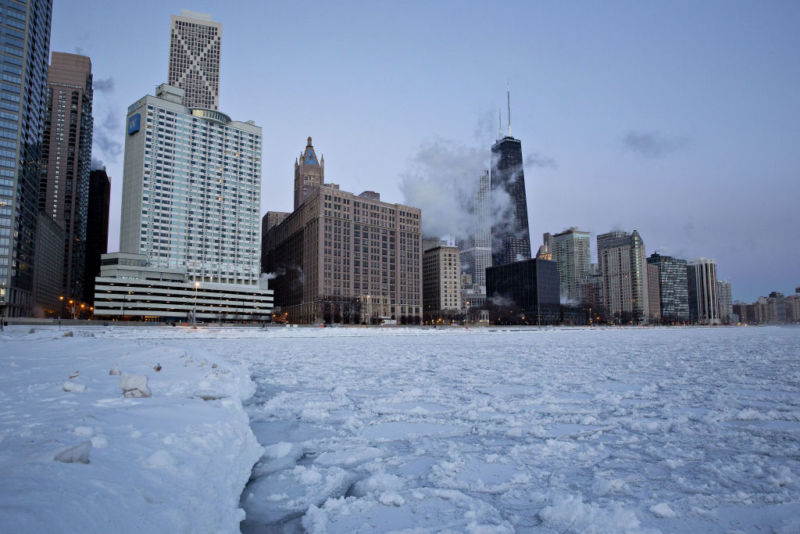 Enlarge / Ice floats on Lake Michigan at dawn in Chicago, Illinois, U.S., on Wednesday, Jan. 30, 2019. (credit: Daniel Acker/Bloomberg via Getty Images)
It is extremely cold in the Midwestern United States, where forecasters are warning of "life-threatening extreme cold." During the early Wednesday morning hours, much of the Dakotas, Minnesota, Wisconsin, and Illinois are locked down with these "feels like" temperatures in the -40s, -50s, and even -60s (Fahrenheit) as winds howl out of the west at up to 25mph.
The region's largest city, Chicago, likely will set a record Wednesday for the coldest day in the city's history. Sunrise temperatures in the city were -23°F, and high temperatures today were forecast to only reach -14°. The city's coldest day on record occurred on Jan. 18, 1994, when the high only reached -11°. The city is even setting its railroad tracks on fire so that trains can run on them. The battle against the cold is much the same across the upper Midwest.
The culprit behind this Arctic outbreak is the much-discussed "polar vortex," which is not a storm per se but a feature in the atmosphere. Normally, this is a roughly circular current near the North Pole, an atmospheric river of sorts, that keeps cold air bottled over the Arctic. Every so often, something disrupts or dislodges the vortex, allowing a chunk of this colder air mass to move southward into the mid-latitudes. Presently, an especially cold and large chunk of this air mass has spilled into Canada and the United States.
Source: https://arstechnica.com/science/2019/01/polar-vortex-stops-by-the-upper-midwest-brings-record-low-temps/
Droolin' Dog sniffed out this story and shared it with you.
The Article Was Written/Published By: Eric Berger