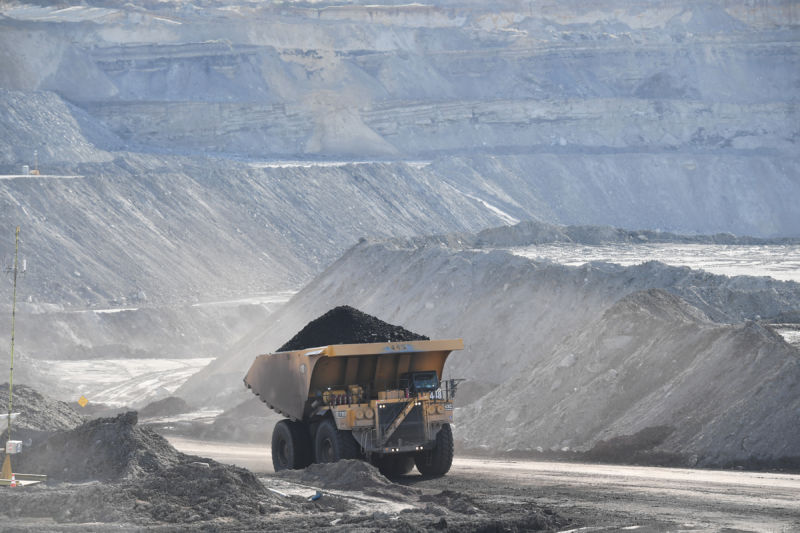 Enlarge / GILLETTE, Wyo.: A truck loaded with coal is viewed from the Eagle Butte Coal Mine Overlook which is operated by Alpha Coal. The area is a large producer of coal. Gillette uses the moniker of "The Energy Capital of the Nation." (credit: Matt McClain/The Washington Post via Getty Images)
On Thursday, the US Energy Information Administration (EIA) released its 2019 Annual Energy Outlook (AEO), which contains projections about trends in energy—from the amount of fossil fuels produced and sold, to the growth of renewable energy—out to 2050.
This year, against the backdrop of recent warnings from top scientists about the urgency of climate action, the EIA's projections don't look great. Coal, one of the most carbon-emitting sources of energy, is still projected to provide 17 percent of the United States' electricity in 2050, and that's assuming that no carbon-capture technology has been made mandatory. Natural gas—a fossil fuel that is less carbon-emitting than coal but still a problem for climate change—will increase its share of US electricity production from 34 percent to 39 percent.
These projections are from the EIA's "reference case," which omits any predictions about unplanned policy changes. But they do contain assumptions about how technology will change and the economy will grow. In the EIA's own words (PDF), "The AEO2019 Reference case represents EIA's best assessment of how US and world energy markets will operate through 2050, based on many key assumptions. For instance, the Reference-case projection assumes improvement in known energy production, delivery, and consumption technology trends."
Source: https://arstechnica.com/tech-policy/2019/01/coal-will-remain-part-of-the-us-grid-until-2050-federal-energy-projections-say/
Droolin' Dog sniffed out this story and shared it with you.
The Article Was Written/Published By: Megan Geuss