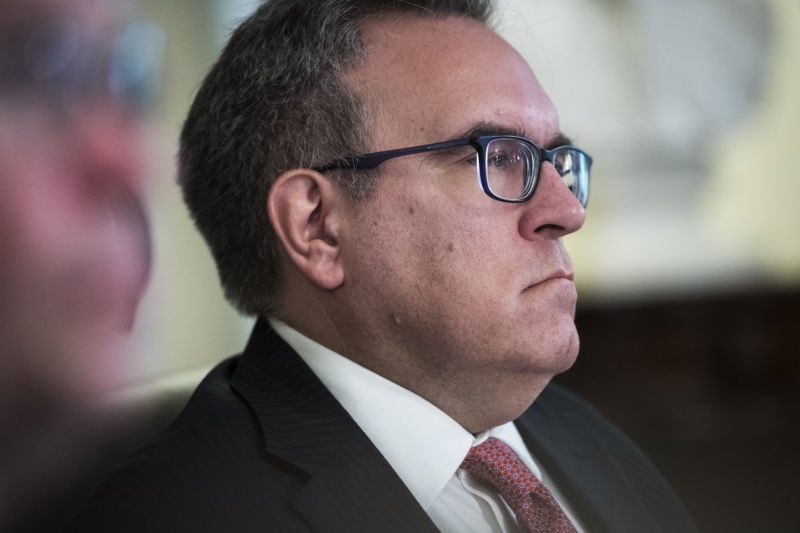 Enlarge / Acting Administrator of the United States Environmental Protection Agency EPA Andrew Wheeler listens as President Donald J. Trump leads a cabinet meeting in the Cabinet Room of the White House on July 18, 2018, in Washington, DC. (credit: Jabin Botsford/The Washington Post via Getty Images)
Polluters likely had a good year in 2018. According to numbers from advocacy group Public Employees for Environmental Responsibility (PEER), the number of criminal pollution cases that the Environmental Protection Agency (EPA) referred to the Department of Justice for potential prosecution was lower in 2018 than it had been in 30 years.
That's probably not because industry in America is becoming more environmentally conscious. PEER suggests the reason for the low number of referrals is that the EPA is only employing between 130 and 140 special agents in the agency's Criminal Investigation Division, less than the minimum 200 agents specified by the US Pollution Prevention Act of 1990.
The EPA only referred 166 cases to the Justice Department in 2018. According to numbers from the Associated Press, referrals peaked in 1998, with 592 cases referred for prosecution. Throughout the George W. Bush presidency, referrals ranged somewhere between 300 and 450. Referrals dipped during the Obama presidency to a range between 200 and just over 400. Referrals have been on a downward trend since 2012.
Source: https://arstechnica.com/tech-policy/2019/01/epa-at-a-30-year-low-for-referring-pollution-cases-for-criminal-prosecution/
Droolin' Dog sniffed out this story and shared it with you.
The Article Was Written/Published By: Megan Geuss