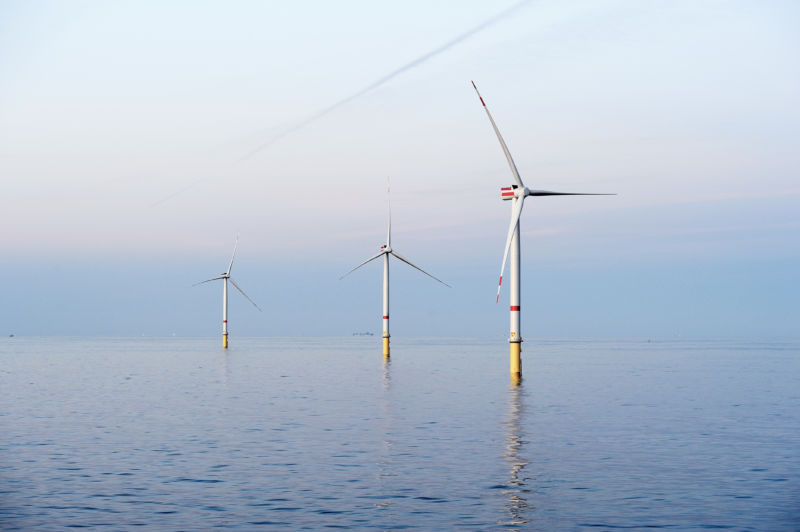 Enlarge / Gode wind farm off the coast of Germany. (credit: Ørsted)
According to the Fraunhofer Institute, Germany's renewable power sector produced more electricity than coal in 2018 for the first time ever, with renewables providing 40 percent of the year's produced electricity and coal providing 38 percent.
Of course, "renewables" include an aggregate of different sources—solar, wind, hydroelectric, and biomass—while coal is just a single fuel source (renewable energy has not yet displaced all fossil fuel use in Germany, you'll note). But coal has long been a staple of the country's energy mix, and Germany looks poised to reduce the amount of coal-fired power on its grid significantly, even shutting down its last coal mine in November. From now on, coal for the approximately 120 coal-fired power plants that still power the German grid will be imported from the US, Russia, or Colombia, according to Bloomberg.
The massive year for renewables was led by continued expansion in the wind energy sector. German wind power output was up 5.4 percent year over year, and output is expected to increase again in 2019. Alone, wind contributed to covering 19 percent of Germany's 2018 electricity demand, the largest source second only to lignite coal.
Source: https://arstechnica.com/science/2019/01/renewables-led-by-wind-provided-more-power-than-coal-in-germany-in-2018/
Droolin' Dog sniffed out this story and shared it with you.
The Article Was Written/Published By: Megan Geuss