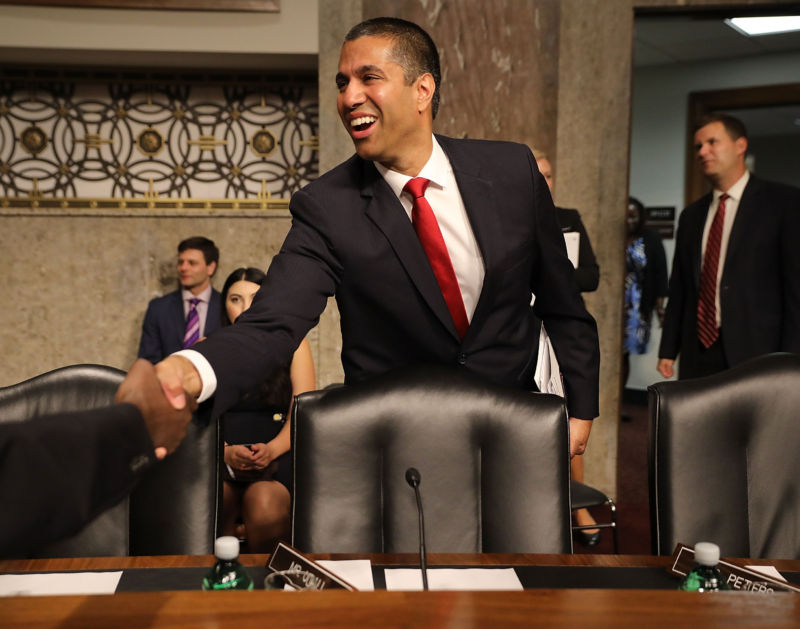 Enlarge / Federal Communications Commission Chairman Ajit Pai arrives for his confirmation hearing with the Senate Commerce Committee on July 19, 2017, in Washington, DC. (credit: Getty Images | Chip Somodevilla )
Ajit Pai today celebrated a victory in his ongoing quest to prevent the US government from enforcing net neutrality rules.
The Pai-led Federal Communications Commission repealed Obama-era net neutrality rules, but the repeal could have been reversed by Congress if it acted before the end of its session. Democrats won a vote to reverse the repeal in the Senate but weren't able to get enough votes in the House of Representatives before time ran out.
"I'm pleased that a strong bipartisan majority of the US House of Representatives declined to reinstate heavy-handed Internet regulation," Pai said in a statement marking the deadline passage today. Pai claimed that broadband speed improvements and new fiber deployments in 2018 occurred because of his net neutrality repeal—although speeds and fiber deployment also went in the right direction while net neutrality rules were in place.
Source: https://arstechnica.com/tech-policy/2019/01/ajit-pai-thanks-congress-for-helping-him-kill-net-neutrality-rules/
Droolin' Dog sniffed out this story and shared it with you.
The Article Was Written/Published By: Jon Brodkin