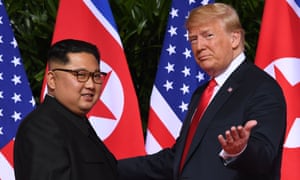 President says venue to be decided and he will also invite North Korean ruler to US at some point
Donald Trump has said he is likely to meet Kim Jong-un in January or February and that three sites for their second meeting are under consideration.
Trump added that at some point he would invite the North Korean ruler to the United States. "We're getting along very well. We have a good relationship," Trump told reporters aboard Air Force One on his return from a G20 summit in Argentina.
Source: https://www.theguardian.com/us-news/2018/dec/02/donald-trump-next-kim-jong-un-meeting-likely-in-january-or-february
Droolin' Dog sniffed out this story and shared it with you.
The Article Was Written/Published By: Reuters