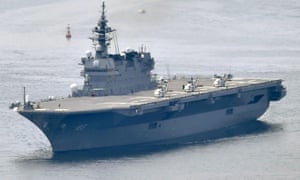 Tokyo will upgrade helicopter carriers, a move critics say violates constitutional commitment to defensive role
Japan is to acquire at least one aircraft carrier for the first time since the second world war, as it attempts to counter Chinese maritime expansion in the Pacific ocean.
The government will upgrade its two existing Izumo-class helicopter carriers so they can transport and launch fighter jets, according to media reports. The plans are expected to be included in new defence guidelines due to be released next month.
Source: https://www.theguardian.com/world/2018/nov/29/japan-to-get-first-aircraft-carrier-since-second-world-war-amid-china-concerns
Droolin' Dog sniffed out this story and shared it with you.
The Article Was Written/Published By: Justin McCurry in Tokyo