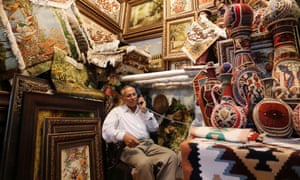 US sanctions ratchet up pressure on Tehran, yet there is no evidence of measures sparking an uprising
Lamal Chinar smiles as she operates a fairground ride in the snow-capped Tochal mountains, north of the ever-encroaching outskirts of Tehran. Schoolchildren on a trip away from the crawling traffic and smog of the Iranian capital scream with joy.
But beneath the surface she worries. Like so many of her compatriots, Chinar is both bystander and victim in America's expanding drive to immobilise the Iranian economy through sanctions.
Source: https://www.theguardian.com/world/2018/nov/28/we-are-desperate-economic-crisis-hits-ordinary-iranians
Droolin' Dog sniffed out this story and shared it with you.
The Article Was Written/Published By: Patrick Wintour in Tehran