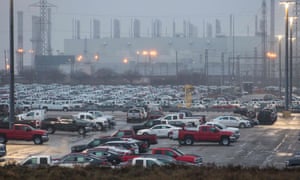 Production to be halted at two US plants and one in Canada
Trump steel tariffs have cost GM $1bn
General Motors has announced it will halt production at five North American facilities and cut 14,700 jobs as it deals with slowing sedan sales and the impact of Donald Trump's tariffs.
More than 6,000 blue-collar jobs will be hit by GM plans to stop production at a car plant in Canada and two more in Ohio and Michigan. Two transmission plants in the US will also be mothballed, putting the future of those plants in doubt.
Source: https://www.theguardian.com/business/2018/nov/26/general-motors-set-to-cut-workforce-as-slowing-sales-and-steel-tariffs-bite
Droolin' Dog sniffed out this story and shared it with you.
The Article Was Written/Published By: Dominic Rushe and Reuters