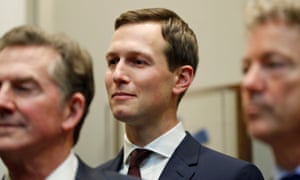 President's son-in-law reportedly pushed officials to inflate value of arms deals, while rightwinger Jerome Corsi rejects Mueller plea deal
5.45pm GMT
Michael Warren at the Weekly Standard has a great look at the Republican wipeout in Orange County, California.
Although Orange County was once the GOP's base in California if not the entire country, Democrats swept all of the jurisdiction's congressional seats in the midterms.
5.39pm GMT
Mark Meadows, one of the leaders of the hard-right Freedom Caucus, is using the events at the US-Mexico border yesterday to urge Congress fund President Donald Trump's border wall before the government funding deadline.
Trump and some Republicans have threatened to push for a government shutdown if there is no funding for a wall.
Reports showing caravan heading toward our southern border. People rushing entry points. It's about time Congress show as much resolve to SECURE our border as the individuals seeking to tear it down.
We have to fund the wall in December. It's now or never.
Source: https://www.theguardian.com/us-news/live/2018/nov/26/donald-trump-us-politics-democrats-republicans-mississippi-latest-live-updates
Droolin' Dog sniffed out this story and shared it with you.
The Article Was Written/Published By: Ben Jacobs in Washington