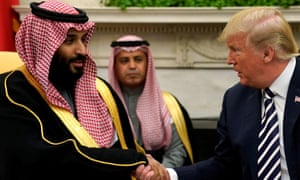 President expressed support for continued close ties with Saudis in statement released by White House
5.41pm GMT
In the aftermath of the murder of the Washington Post's Jamal Khashoggi, the White House has released a statement from the president where he expresses his support for continued close ties with the Saudis.
The full letter which starts "the world is a very dangerous place" is below. This is a key excerpt.
The crime against Jamal Khashoggi was a terrible one, and one that our country does not condone. Indeed, we have taken strong action against those already known to have participated in the murder. After great independent research, we now know many details of this horrible crime. We have already sanctioned 17 Saudis known to have been involved in the murder of Mr Khashoggi, and the disposal of his body.
Representatives of Saudi Arabia say that Jamal Khashoggi was an "enemy of the state" and a member of the Muslim Brotherhood, but my decision is in no way based on that – this is an unacceptable and horrible crime. King Salman and Crown Prince Mohammad bin Salman vigorously deny any knowledge of the planning or execution of the murder of Mr Khashoggi. Our intelligence agencies continue to assess all information, but it could very well be that the Crown Prince had knowledge of this tragic event – maybe he did and maybe he didn't!
INBOX: Statement from President Donald J. Trump on Standing with Saudi Arabia pic.twitter.com/kqpbzhzuiH
5.28pm GMT
Jerry Nadler of New York, who will lead the House Judiciary Committee next year, has written several cabinet members to notify them that his committee will investigate the Trump administration's immigration and family detention policies next year.
JUST IN: Nadler tells Whitaker, Nielsen, and Azar that House Judiciary will be looking into immigration, detention, family separation issues come January: https://t.co/WdQj7LI91Q pic.twitter.com/STUyQ1dr8s
Source: https://www.theguardian.com/us-news/live/2018/nov/20/trump-latest-live-news-updates-ivanka-emails-asylum-ruling-cnn-us-politics-today
Droolin' Dog sniffed out this story and shared it with you.
The Article Was Written/Published By: Ben Jacobs in Washington