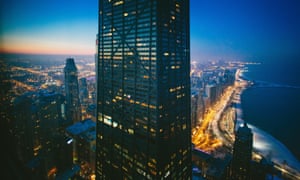 One of several cables holding elevator broke and car fell rapidly
Six people including pregnant woman rescued by firefighters
People rescued from a trapped elevator in one of Chicago's tallest skyscrapers later learned they had dropped 84 floors.
The Chicago Tribune reported on Monday that six people, including a pregnant woman, got into the elevator early on Friday after leaving a restaurant on the 95th floor of the 875 North Michigan Avenue building, formerly the John Hancock Center. They heard noises and experienced a faster and bumpier than expected ride.
Source: https://www.theguardian.com/us-news/2018/nov/19/six-rescued-unhurt-after-after-chicago-skyscraper-elevator-plummets-85-stories
Droolin' Dog sniffed out this story and shared it with you.
The Article Was Written/Published By: Associated Press