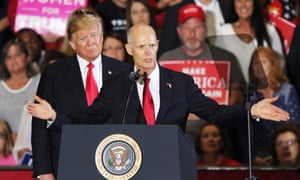 At least 4,000 voters will be given 48 hours to correct the problem
Deadline approaching for machine recount of ballots in two races
3.10pm GMT
Adult film actress Stormy Daniels says she will dump Michael Avenatti as her lawyer if domestic violence allegations against him prove true.
Avenatti was arrested Wednesday in Los Angeles and says the charges are false. The lawyer is best known for representing Daniels, who says she had a sexual encounter with Donald Trump and was paid off to keep silent about it during the 2016 presidential campaign.
NEW: Statement from Stormy Daniels regarding Michael Avenatti @NYMag pic.twitter.com/p1dUgCN9tr
2.57pm GMT
Nevada Sen. Catherine Cortez Masto is expected to be appointed chair of the Democratic Senatorial Campaign Committee, Politico reports.
Cortez Masto is a freshman Democrat and the position could be announced as soon as Thursday.
Source: https://www.theguardian.com/us-news/live/2018/nov/15/florida-election-recount-latest-trump-voters-us-politics-live
Droolin' Dog sniffed out this story and shared it with you.
The Article Was Written/Published By: Erin Durkin in New York